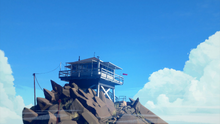 Thorofare Lookout is the tower where Delilah is assigned to. It is implied that  Delilah rarely leaves the lookout and she will occasionally report the events she sees inside her tower.
It is unknown why Delilah left most of her items in her tower(namely her shirt, books, and other personal items) when she was picked up by the Forest Rescue whereas she still had time to pack up like Henry did before leaving the tower.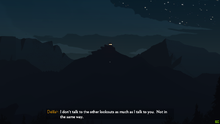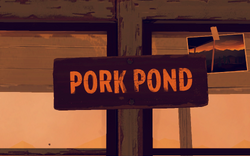 Delilah mentions that "Pork Pond's name is interesting" if the player reaches Pork Pond. It is revealed that it was her who stole the sign which is later found in game if the player explores Thorofare Lookout.
Delilah mentioned that she left the tower when she sneaked up on midnight to place an untapped radio communicator to a supply cache in Cottonwood Creek for Henry to pick up.
If the player tries to go at the tower in the early stage of the game, Delilah mentions that a cable car going to Thorofare is only used for immediate emergency, thus preventing the player to reach the lookout. Instead, an interesting dialogue between the two commences.