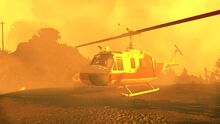 The rescue helicopter can be seen on Day 79, when the fire is closing in on Two Forks and Thorofare Lookout Area.
Its role is to evacuate Henry.
The rescue helicopter appears to be a Bell 205 helicopter.
It comes when you are at Delilah's lookout
It contains the only close up NPC, who is the rescue firefighter.