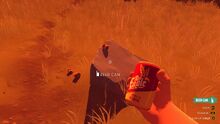 Red Eagle beers are canned beverages that are found in the camper's site as Henry can tell if they've been on the premise because of the presence of empty beer cans they always leave. The beer is brewed in Wyoming and is considered as a low-quality product based on the conversation between Henry and Delilah.
Ned Goodwin allegedly drink this product.
Chelsea and Lily has a number of boxes full of Red Eagle beers left in their campsite.
Dialogues
Edit
"Fuck it, I'm not the maid"
-Henry, if the player picks up, and throws the object.