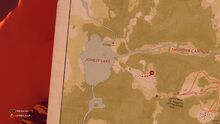 Jonesy Lake is first introduced to the player after Henry overslept in his first day of work. It is located far west of Two Forks Lookout. Delilah saw illegal fireworks setting off in the lake and sent Henry to confront the campers.
On the way to the lake, Henry can find a number of feminine underwear, Red Eagle beers, and a campsite. He can choose to report it back to Delilah or go straight at confronting the campers. It is shown that there are a duo of girls that are skinny-dipping and a large, noisy radio boom box. The interaction between Henry and the girls are determined by the player.
Later in the game, when Henry is about to go fishing in the lake, he discovered a clipboard about him and Delilah (left by Ned Goodwin as a setup). They became hysterical about their discovery and Henry was knocked out cold by Ned Goodwin by hitting him in the back of his head after picking up a radio near the lake.
Jonesy Lake is a landmark going to Wapiti Meadow, Thunder Canyon, and Two Forks Lookout.
You can find a turtle near the lake and choose to adopt or leave it. If you chose to adopt it, you can name the pet as Turt Reynolds or Shelly Duvall.